Libra detailed yearly horoscope. all about Virgo 2022 horoscope forecast for love, Career, money, wealth, energies and more…
About Libra: You are considered harmonic, kind, conciliatory, flexible, creative, peace seekers and avoid conflicts. An understanding of the star's influence will help you make the correct decisions in the upcoming year.
Libra Love horoscope: It looks as though the past goes on to hunt you, which means that someone from your history appears and reminds you forgotten things. This is a good year for those who like comebacks. Your mythological exes return to the stage front. You find yourself explaining to your current lovers what you like in your memory album. Naturally it seems that you can expect affairs that it is better not to talk about. Click for your daily Tarot card
---
Black Tourmaline tree of life pendant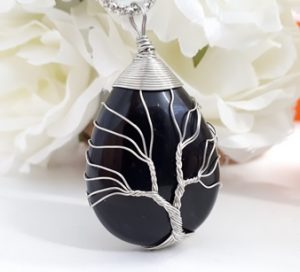 ---
Libra Career horoscope: Your creativity will bring you success in all fields that demand spiritual depth and inspiration. Your harmonic soul is about to take you to areas in which compromising and bridging capabilities are needed. The medal stand is waiting for the ones led by their lightness to professions that need motor coordination, such as dancing and choreography. Don't be surprised if you become candidates for key roles in employees' committees.
Libra crystals and stones for this year: Lapis Lazuli, Dumortierite and Black Tourmaline.
Click to buy Healing jewelry for your Zodiac sign
Libra Money horoscope: A wonderful and fortunate year is expected that may provide you with financial success above and beyond your expectations. Some will even say that you are earning money without any effort. You will also succeed in gambling, but you should remember the rule that when the fortune goddess is standing at the door there is no need to take risks. Even investment of small amount of money can become to a lucky one. This year things are expected to work out for the best.
Energies: Your yearly fortune is connected to people (and places) with names that when you sum up their letters (of full name), as well as their date of birth you will receive the number 1 such as the summing up of the number 10. Check out the Numerology calculator
Reference points for the upcoming year: April to June is expected to have an emotional swirl that invites many advisors. It is true they want the best for you but each is pulling to a different direction.