Taurus detailed yearly horoscope. all about Taurus 2022 horoscope forecast for love, Career, money, wealth, energies and more…
About Taurus: You are considered stubborn, hedonist people, with a natural sense for beauty and figure, creative, devoted, faithful and smart. An understanding of the star's influence will help you make the correct decisions in the upcoming year.
Taurus Love horoscope: Nothing is taken for granted and no relationship starts by itself. Sometimes you think that if you will do nothing, things will happen by themselves. Well, Cupid hints you that only if you initiate you can flourish what has withered and faded in the romantic garden. Romantic energies are flowing towards you from overseas but you have to wait for them on the seashore. It will be worthwhile for you to gamble on match making and blind dates. Click for your daily Tarot card
---
Black Tourmaline tree of life pendant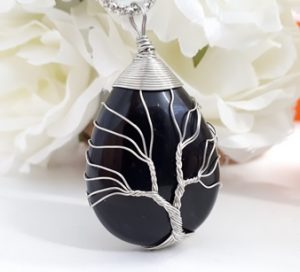 ---
Taurus crystals and stones for the this year: Black Tourmaline, Tiger eye and Amethyst.
Click to buy Healing jewelry for your Zodiac sign
Taurus Career horoscope: Glory is waiting for those of you that see their future in the art and creation field, especially in paths that deal with styling and fashion. The real estate business can also introduce some interest in your career. A red carpet is rolled to the feet of those who are not afraid to adapt original thinking. If you considered developing an independent career, don't hesitate to use partners.
Taurus Money horoscope: You learn to recognize the benefits of paper money. The stars impart blessing but you should hurry to implement the achievements in a short time. It is energy of doing and not of reflection. However, you must adapt yourself to whoever you are dependent upon in the financial field, even if you tend to do the opposite. The money will come to you as long as you bestow respect to the authoritative figures that influence your lives.
Energies: Your yearly fortune is connected to people (and places) with names that when you sum up their letters (of full name), as well as their date of birth you will receive the number 8, for example the summing of the number 17. Check out the Numerology calculator
Reference points for the upcoming year: On October- December coincidences are anticipated in which you will start a relationship with someone that in the first glance will look valiant but will be discovered as a disappointment.