In this article you'll find related links that will help you to plan the best trip to Split, free coupons save a lot of money on hotels, car rentals, restaurants and attractions in Zagreb, best hotels in Zagreb

Exploring the Top Tourist Attractions in Zadar: A Must-See Travel Guide
Nestled along the stunning Adriatic coast in Croatia, Zadar is a charming and historically-rich city that offers an array of sights and experiences for travelers. From its ancient Roman ruins to its beautiful coastline and vibrant culture, Zadar is a must-see destination for those seeking a unique and unforgettable travel experience. In this guide, we will explore some of the top tourist attractions that make Zadar a gem of the Adriatic.
---
Black Tourmaline tree of life pendant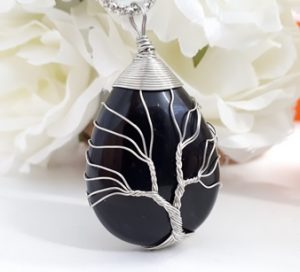 ---
1. The Sea Organ
One of the most unique and mesmerizing attractions in Zadar is the Sea Organ. Designed by architect Nikola Bašić, this art installation consists of a series of pipes located beneath marble steps that descend into the sea. As the waves roll in, they push air through the pipes, creating eerie and hauntingly beautiful music. Visitors can sit on the steps and listen to the ethereal symphony of the sea, making for a truly unforgettable experience.
2. Greeting to the Sun
Adjacent to the Sea Organ is another of Zadar's spectacular art installations, the Greeting to the Sun. This solar-powered installation consists of a circular platform embedded with 300 multilayered glass plates that collect solar energy during the day. At night, the energy is used to power a mesmerizing light display that mimics the patterns of the sun and creates a dazzling spectacle for visitors to enjoy.
3. Zadar Old Town
Zadar's Old Town is a labyrinth of narrow streets, ancient churches, and historic buildings that testify to the city's rich and varied history. One of its most iconic landmarks is the Roman Forum, which dates back to the 1st century BC and is one of the best-preserved forums in the Adriatic region. The Old Town is also home to the Cathedral of St. Anastasia, a stunning example of Romanesque architecture, and the Church of St. Donatus, a pre-Romanesque church built in the 9th century.
4. Zadar City Walls and Gates
For history buffs and architecture enthusiasts, a visit to the Zadar city walls and gates is a must. The city's fortified walls date back to the 16th century and offer a fascinating glimpse into Zadar's past. Visitors can walk along the walls and take in panoramic views of the city and the surrounding landscapes. The Land Gate, one of the main entrances to the city, is particularly impressive, with its Venetian lion of St. Mark and ornate carvings.
5. St. Marija Church and Bell Tower
Located in the heart of Zadar's Old Town, the St. Marija Church and its adjacent bell tower are architectural marvels that offer a glimpse into Zadar's religious heritage. The church's beautiful interior features an impressive collection of religious art, while the bell tower provides stunning views of the city and the surrounding area.
6. Zadar Archaeological Museum
For those interested in delving deeper into Zadar's rich history, the Archaeological Museum is a treasure trove of artifacts and exhibits that showcase the city's past. From Roman and medieval artifacts to displays of the region's prehistoric and ancient history, the museum offers a comprehensive look at Zadar's archaeological heritage.
7. Kornati National Park
Located just a short boat ride from Zadar, Kornati National Park is a breathtaking archipelago consisting of 89 mostly uninhabited islands, islets, and reefs. This stunning natural wonder is a haven for nature lovers, with its crystal-clear waters, diverse marine life, and rugged, unspoiled landscapes. Visitors can take boat trips to explore the islands, go snorkeling or diving, and enjoy the tranquility and beauty of this unique national park.
FAQs:
– When is the best time to visit Zadar?
The best time to visit Zadar is during the spring and summer months, when the weather is warm and the city comes alive with festivals, outdoor events, and vibrant street life. However, Zadar's mild climate makes it an attractive destination year-round, with its historic sites, cultural events, and natural beauty.
– How can I get around in Zadar?
Zadar is a very walkable city, and many of its attractions are located within the Old Town, making it easy to explore on foot. Additionally, the city is well-served by public transportation, including buses and ferries, making it easy to reach other areas of interest.
– Are there any must-try dishes in Zadar?
Zadar is known for its delicious seafood dishes, including fresh fish, squid, and shellfish. Some must-try dishes include brudet (fish stew), brodetto (seafood soup), and crni rižot (black risotto). Additionally, Zadar is famous for its maraschino liqueur, a sweet cherry liqueur that has been produced in the city since the Middle Ages.
In conclusion, Zadar is a city that offers a wealth of experiences for travelers, from its ancient history to its modern art installations, stunning scenery, and delicious cuisine. Whether you are interested in history, culture, nature, or simply enjoying the beauty of the Adriatic, Zadar is a must-see destination that will leave a lasting impression on all who visit.