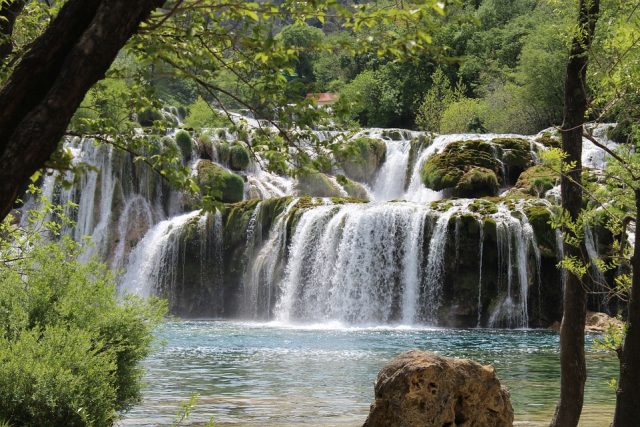 In this article you'll find related links that will help you to plan the best trip, free coupons save a lot of money on hotels, car rentals, restaurants and attractions.

Welcome to Opatija, the picturesque coastal town in Croatia that exudes luxury and charm. With its stunning architecture, lush parks, and crystal-clear waters, Opatija is a hidden gem waiting to be explored.
This travel guide is designed to help you make the most of your visit to this beautiful destination. Whether you're a first-time visitor or a seasoned traveler, Opatija has something to offer for everyone. From relaxing on the beach to exploring the town's rich cultural heritage, there's no shortage of things to see and do here.
---
Black Tourmaline tree of life pendant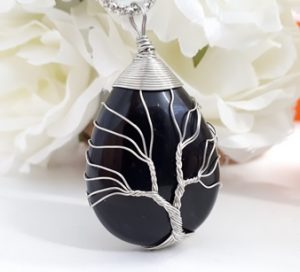 ---
Getting There
Opatija is conveniently located just a short drive from the city of Rijeka, making it easily accessible by car or public transportation. If you're flying in from abroad, the closest airport is Rijeka Airport, which is only a 40-minute drive from Opatija. Once you're in town, the best way to get around is on foot or by bicycle, as the town is relatively compact and easy to navigate.
Where to Stay
Opatija is home to a number of luxurious hotels and resorts, each offering its own unique blend of elegance and comfort. Whether you're looking for a five-star hotel with stunning sea views or a boutique guesthouse with a personal touch, you'll find the perfect accommodation to suit your needs. Some popular options include the Hotel Kempinski Palace, the Remisens Premium Hotel Kvarner, and the Grand Hotel Adriatic.
Things to Do
Opatija boasts a wide range of activities for visitors to enjoy, from relaxing in a seaside cafe to exploring the town's historic landmarks. One must-see attraction is the beautiful Angiolina Park, a lush oasis of exotic plants and sculptures that offers a peaceful escape from the hustle and bustle of the town. Another highlight is the Croatian Walk of Fame, a tribute to the country's most famous personalities.
For those interested in history and culture, a visit to the Croatian Museum of Tourism is a must. Housed in a stunning Austro-Hungarian villa, the museum showcases the history of tourism in the region, offering a fascinating insight into Opatija's past. And of course, no trip to Opatija would be complete without a stroll along the famous Lungomare Promenade, a scenic coastal path that stretches for 12 kilometers and offers breathtaking views of the Adriatic Sea.
Where to Eat
Opatija is a haven for food lovers, with a wide range of restaurants and cafes offering everything from traditional Croatian cuisine to international favorites. For a taste of local flavors, be sure to try some of the region's specialties, such as fresh seafood, truffles, and Istrian prosciutto. Some popular dining options include the elegant Bevanda Restaurant, the charming Ruzmarin Restaurant, and the trendy Kantinon Tavern.
Frequently Asked Questions
– When is the best time to visit Opatija?
The best time to visit Opatija is during the summer months, when the weather is warm and sunny, and the town comes alive with outdoor events and festivals. However, if you prefer to avoid the crowds, consider visiting in the spring or fall when the weather is still pleasant, and the town is quieter.
– What are some must-see attractions in Opatija?
Some must-see attractions in Opatija include the Angiolina Park, the Croatian Walk of Fame, the Croatian Museum of Tourism, and the Lungomare Promenade. These attractions offer a unique insight into the town's history and culture, as well as stunning natural beauty.
– Is Opatija a family-friendly destination?
Yes, Opatija is a great destination for families, with plenty of activities and attractions to keep both kids and adults entertained. From beach days to cultural excursions, there's something for everyone to enjoy in this charming town.
– What is the local currency, and is it easy to exchange money?
The local currency in Croatia is the Croatian Kuna (HRK). While many businesses in Opatija accept credit cards, it's always a good idea to have some cash on hand for smaller purchases. There are several currency exchange offices in town where you can easily exchange money.
In conclusion, Opatija is a luxurious destination that offers a perfect blend of natural beauty, rich history, and modern amenities. Whether you're looking for a relaxing beach getaway or a cultural adventure, this charming coastal town has something for everyone. With its stunning architecture, lush parks, and crystal-clear waters, Opatija is a hidden gem waiting to be explored. So pack your bags and get ready to experience the luxurious beauty of Opatija firsthand.