Citrine is a yellow or orange variety of quartz and is often referred to as the "stone of abundance". It is found in many different parts of the world, including Brazil, Madagascar, Spain, and Russia. In terms of its healing properties, citrine is said to stimulate the body's natural healing processes, increase energy and vitality, and promote emotional stability and happiness. It is also believed to help with digestion, relieve tension and headaches, and improve skin and eye health.
Citrine Virtues: The yellow and orange colors of citrine are associated with the solar plexus chakra, which governs personal power, confidence, and self-esteem. These colors also symbolize joy, happiness, and creativity. Citrine is often used in meditation and manifestation practices, as it is believed to attract abundance and success. It is also used to boost self-confidence and to help release negative thoughts and emotions. To use citrine, simply carry it with you or place it in a room where you spend a lot of time. You can also use it in crystal grids, meditate with it, or wear it as jewelry.
---
Black Tourmaline tree of life pendant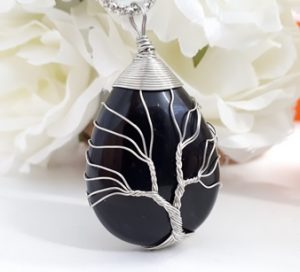 ---
Citrine crystal spiritual meaning: The emotional meaning of citrine is connected to its ability to promote happiness and emotional balance. It is said to help you let go of fear, anger, and self-doubt, and to boost feelings of joy and optimism. Spiritually, citrine is believed to promote spiritual growth and to enhance spiritual awareness. It is said to help you connect with higher realms, to align with your highest path and purpose, and to open the doors to spiritual prosperity.
In astrology, citrine is associated with the zodiac sign of Leo. Leos are known for their confidence, courage, and self-expression, and citrine is said to enhance these traits. It is also associated with the zodiac sign of Aries, which governs energy, initiative, and leadership. Citrine is a powerful and versatile stone with many benefits for physical, emotional, and spiritual well-being. Whether you use it for manifestation, healing, or simply to boost your mood and confidence, this beautiful stone is a wonderful addition to any collection.