In this article you'll find related links that will help you to plan the best trip, free coupons save a lot of money on hotels, car rentals, restaurants and attractions.

Welcome to Trogir, a picturesque town on the Dalmatian coast of Croatia. With its rich history, stunning architecture, and beautiful beaches, Trogir is a must-visit destination for any traveler to this part of the world. In this comprehensive guide, we'll take you through the must-see attractions and hidden gems of Trogir, giving you the insider's scoop on how to make the most of your visit to this charming town.
Must-See Attractions
---
Black Tourmaline tree of life pendant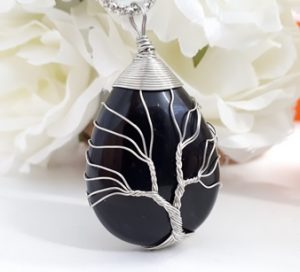 ---
1. Trogir Old Town – The heart of Trogir is its beautifully preserved Old Town, a UNESCO World Heritage site. Take a leisurely stroll through the winding cobblestone streets and marvel at the well-preserved medieval and Renaissance buildings. Don't miss the stunning Cathedral of St. Lawrence and the impressive Kamerlengo Fortress.
2. The Riva – The Riva is Trogir's waterfront promenade, lined with trendy cafes, bars, and restaurants. It's the perfect place to relax with a drink and soak in the stunning views of the Adriatic Sea.
3. Trogir Town Museum – For a deeper understanding of the town's history and culture, a visit to the Trogir Town Museum is a must. The museum's collection includes archaeological artifacts, historical documents, and works of art that tell the story of Trogir through the ages.
4. Ciovo Island – Just a short boat ride from Trogir, Ciovo Island offers pristine beaches, crystal-clear waters, and lush pine forests. It's the perfect place to escape the hustle and bustle of the town and enjoy some well-deserved relaxation.
Hidden Gems
1. The Kamerlengo Tower – While many visitors flock to the Kamerlengo Fortress, the nearby Kamerlengo Tower is often overlooked. Climb to the top for panoramic views of Trogir and the surrounding islands.
2. St. Nicholas Convent – Tucked away in a quiet corner of Trogir, the St. Nicholas Convent is a serene and peaceful retreat. The beautifully preserved cloisters and gardens provide the perfect setting for a tranquil afternoon.
3. Pantan Mill – Just a short walk from the town center, the Pantan Mill is a hidden gem that's not to be missed. This 15th-century watermill is surrounded by lush greenery and is a great spot for a leisurely stroll or a picnic.
4. Trogir Market – Experience the local way of life at the Trogir Market, where locals shop for fresh produce, seafood, and handmade crafts. It's a great place to pick up souvenirs and mingle with the friendly locals.
FAQs
Q: When is the best time to visit Trogir?
A: The summer months of June to August are the most popular, but Trogir can get quite crowded during this time. Consider visiting in the shoulder seasons of spring and fall for smaller crowds and more comfortable temperatures.
Q: How do I get to Trogir?
A: Trogir is easily accessible by bus, car, or ferry from nearby cities like Split and Dubrovnik. Split Airport is also just a short drive away, making it convenient for international travelers.
Q: Are there any good local restaurants to try in Trogir?
A: Yes, Trogir has a fantastic culinary scene, with many restaurants serving up delicious Croatian cuisine. Be sure to try local specialties like fresh seafood, grilled meats, and traditional Dalmatian dishes.
Q: Is it safe to swim in the waters around Trogir?
A: Yes, the waters around Trogir are generally safe for swimming. The beaches in and around the town are well-maintained and offer clear, clean waters for swimming and snorkeling.
We hope this comprehensive guide has given you a good overview of what Trogir has to offer. Whether you're interested in history, culture, or simply relaxing in the sun, Trogir has something for everyone. So pack your bags, book your tickets, and get ready for an unforgettable adventure in this charming Dalmatian town.