In this article you'll find related links that will help you to plan the best trip, free coupons save a lot of money on hotels, car rentals, restaurants and attractions.

Welcome to Opatija, a stunning resort town located on the Adriatic coast of Croatia. With its beautiful beaches, lush greenery, and rich history, Opatija is a must-visit destination for travelers looking to experience the natural beauty and charm of the region. In this guide, we'll explore some of the best places to visit in Opatija and provide you with all the information you need to plan your trip.
The Lungomare Promenade
One of the most iconic and beautiful spots in Opatija is the Lungomare Promenade. This scenic walkway stretches for over 12 kilometers along the coast, offering breathtaking views of the Adriatic Sea and the surrounding landscape. Whether you're looking for a peaceful stroll or a leisurely bike ride, the Lungomare Promenade is the perfect place to take in the beauty of Opatija.
---
Black Tourmaline tree of life pendant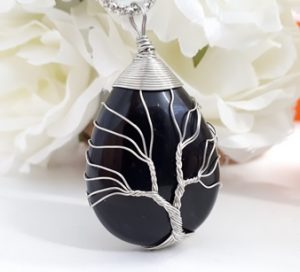 ---
St. James's Church
For travelers interested in history and architecture, a visit to St. James's Church is a must. This stunning church dates back to the 15th century and features beautiful Baroque and Gothic elements. The church is located in the heart of Opatija and is a perfect place to immerse yourself in the town's rich cultural heritage.
The Maiden with the Seagull
No trip to Opatija would be complete without a visit to the iconic Maiden with the Seagull statue. This beautiful sculpture, perched on a rock in the middle of the sea, has become a symbol of Opatija and is a popular spot for tourists to take photos and enjoy the scenery. Whether you're admiring the statue from the shore or taking a boat out to get a closer look, the Maiden with the Seagull is a must-see sight in Opatija.
Angiolina Park
If you're in the mood for some relaxation and natural beauty, be sure to visit Angiolina Park. This picturesque park is home to a variety of exotic plants and trees, as well as beautiful sculptures and fountains. It's a perfect place to take a leisurely stroll, have a picnic, or simply enjoy the peaceful surroundings.
Day Trips to Nearby Islands
Opatija is also a great base for exploring the nearby islands of Krk, Cres, and Lošinj. These islands are just a short boat ride away and offer stunning beaches, charming villages, and plenty of opportunities for outdoor activities such as hiking, swimming, and snorkeling. Whether you're looking for a peaceful getaway or a day of adventure, the nearby islands are a must-visit for travelers in Opatija.
FAQs
Q: What is the best time to visit Opatija?
A: The best time to visit Opatija is during the summer months, from June to September, when the weather is warm and the beaches are at their best. However, spring and fall can also be a great time to visit, as the weather is still pleasant and the crowds are smaller.
Q: How do I get to Opatija?
A: Opatija is easily accessible by road, with good connections to major cities in Croatia and neighboring countries. The nearest airport is Rijeka Airport, which is about a 40-minute drive from Opatija. There are also regular bus and train services to Opatija from cities such as Zagreb and Rijeka.
Q: What are some other must-visit attractions in Opatija?
A: In addition to the places mentioned above, be sure to visit the Croatian Walk of Fame, the Church of St. Anne, and the Juraj Šporer Art Pavilion. You can also take a day trip to the nearby town of Rijeka, which has a vibrant cultural scene and some interesting historical sites.
In conclusion, Opatija is a truly special destination that offers a perfect combination of natural beauty, history, and relaxation. Whether you're interested in exploring the town's rich heritage, soaking up the sun on the beach, or taking day trips to nearby islands, there's something for everyone in Opatija. Plan your trip today and prepare to be enchanted by the beauty of this charming Croatian gem.